English Top | Facilities | Access
Map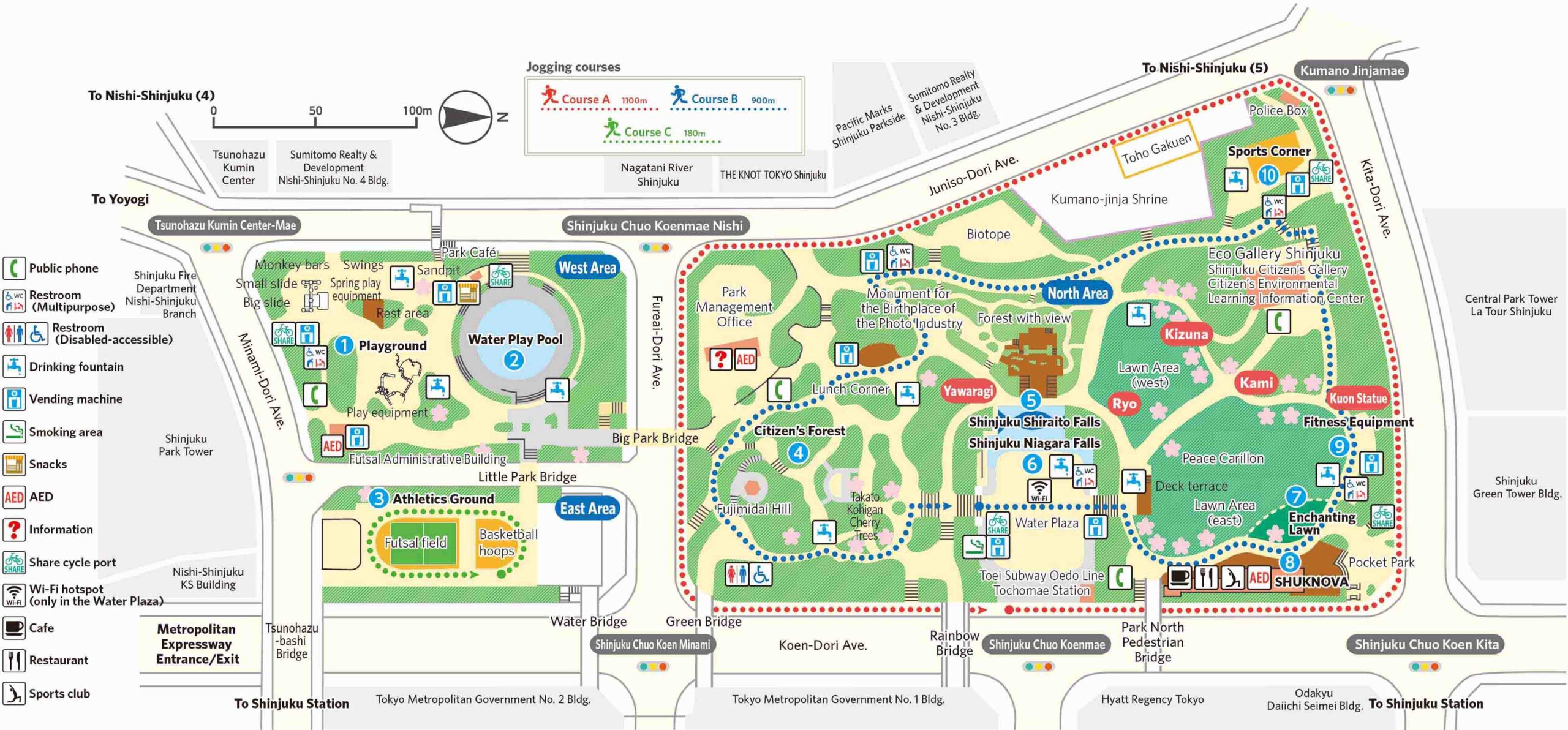 Facilities
Playground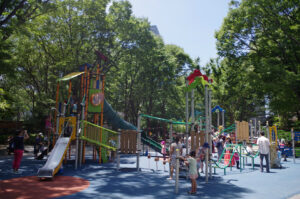 – Limited Admission Times
9:30 a.m. to 11:30 a.m./1:30 p.m. to 4:00 p.m.
Featuring a variety of play equipment for the enjoyment of children such as a combination ladder, swing, sandpit and slide.
Water Play Pool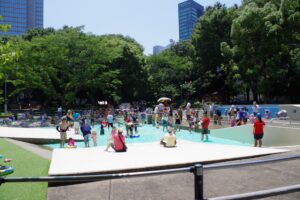 The water play pool is available to children in lower grades of elementary school during the summer. Tricycles are available to hire for use by small children around the circumference of the water play pool. (Tricycles are not available on rainy days and when the water play pool is open.)
Athletic Ground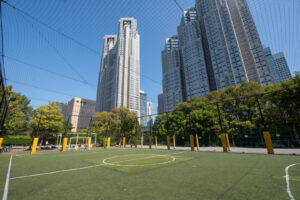 The center of the park is a futsal field with a jogging course around its circumference. One lap is 175 meters. Basketball hoops are also provided.
Citizen's Forest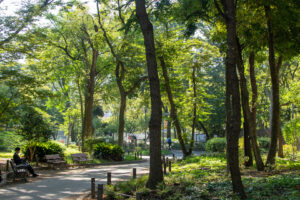 A luscious green area where visitors can enjoy shinrin-yoku or "forest bathing". The lunch corner is a place of respite for many, including business people and tourists.
Visitors can also encounter precious cultural heritages such as a monument for the birthplace of the photo industry and Fujimidai Hill, which features a hexagonal building constructed when the site was home to the Yodobashi Water Filtering Plant.
Water Plaza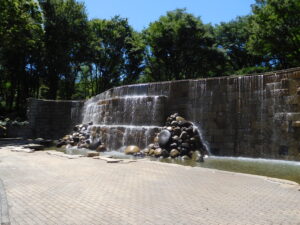 A plaza where various events and activities are held all year long.
Lawn Area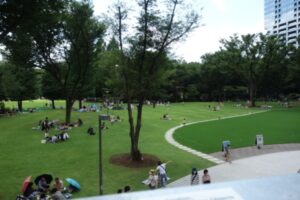 A relaxing place to enjoy picnics and cherry blossom viewing. The peace carillon, which was installed to commemorate Shinjuku ward's "Peace City Declaration", tolls automatically four times a day.
SHUKNOVA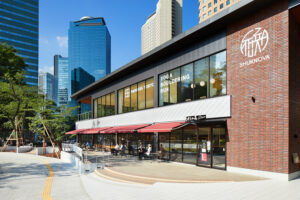 This building, which opened in 2020, has a cafe, restaurant and outdoor gym. There are also terrace seats that are available to everyone.
Fitness Equipment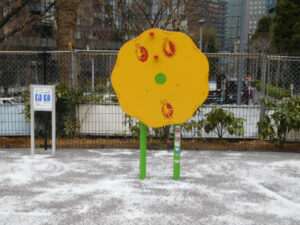 In order to promote park fitness, there are seven pieces of equipment for warming up, training and cooling down.
Sports Corner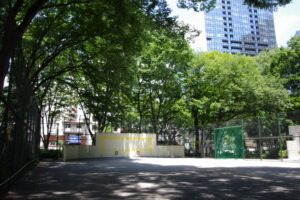 Open hours: Sunrise to 8 p.m.
A place to enjoy recreational sport such as rebound wall tennis or practice catching and throwing.
Shinjuku Central Park Management Office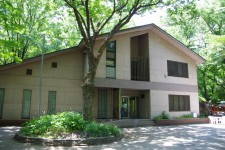 Shinjuku Central Park Management Office
TEL:03-3342-4509
Designated administrator: Shinjuku Central Park Up Collective (Parks Foundation, Showa Zoen)
Behavior prohibited in the park
This park is an important place for everyone to enjoy. The following behavior is prohibited so that all visitors can have a comfortable experience. No noise No riding bicycles Strictly no fires*1 No being a public nuisance due to the effects of alcohol No ball sports*2 No allowing dogs to go loose No feeding the pigeons No smoking*3 No posters or advertisements No vehicles or motorbikes No skateboarding*4 No removing or harming flora and fauna or damaging facilities No altering, damaging or dirtying the park. No dangerous behavior, behavior which would be a nuisance to other park goers, or inappropriate usage of facilities.
*1 Excluding events for which permits have been obtained
*2 Rebound tennis wall and playing catch in the Sports Corner, futsal in the futsal field and basketball using the basketball shoots are accepted
*3 Smoking is permitted in the designated smoking areas (inside the Water Plaza)
*4 Skateboarding is only allowed in Water Plaza